Our Services
Serving home and business owners, we have developed a reputation for reliable, timely and affordable landscaping. Our services include:
Lawn Maintenance
Lawn-care
Tree services
Lawn renovation
So whether your needs are residential or commercial, call us for all of your landscaping needs.
Lawn Maintenance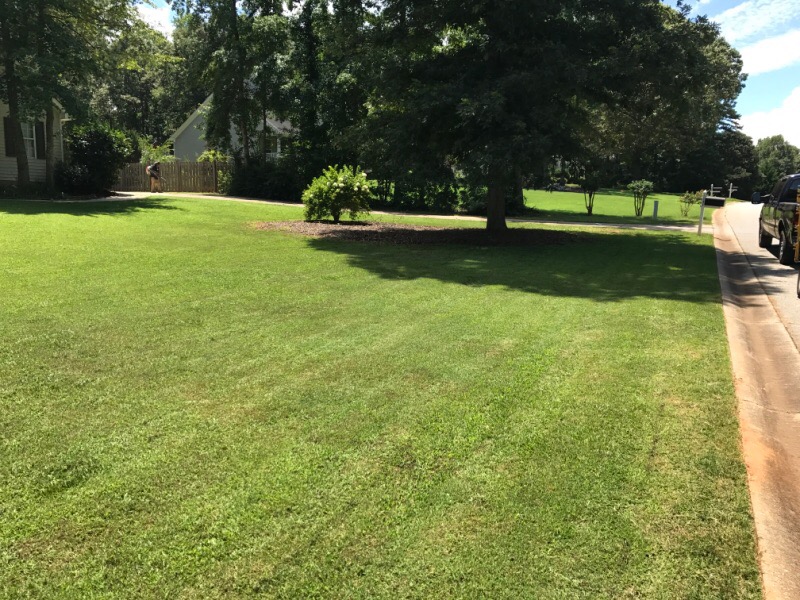 You may not be surprised to learn that a gorgeous lawn can improve your mood and outlook on life. But when it comes to caring for your lawn, hiring an inexperienced or untrained landscaping company often leads to costly substandard results that can do your lawn more harm than good.
At Cornerstone Lawncare, we are dedicated to creating and maintaining healthy beautiful lawns in Fairburn. We work closely with our clients to develop a long-term lawn care plan that fits their needs and budget, and we never tack on any hidden or extra charges. From insect control to logging, we take every precaution to protect you and your family and only use the safest landscaping products and methods. Our mission is to provide 100% customer satisfaction in every aspect of our work.
So if you're interested in experiencing the convenience of professional landscaping or are unhappy with your current company, trust the experts at Cornerstone Lawncare for prompt affordable service you can depend on. Call us today to schedule an at-home consultation with one of our many qualified lawn care professionals.
Lawn Treatment and Fertilizer
Your lawn is the first thing people see when they visit or drive past your home or business. Wouldn't you prefer to make a good first impression? At Cornerstone Lawncare, we help property owners improve their curb appeal with our lawn treatment and fertilizer services. Proper lawn maintenance takes hard work and dedication, and many people simply don't have the time to care for their lawns as they should. That's where we come in.
Weed Control
Have weeds taken over your yard? Our weed control specialists can help. We apply pre-emergent and post-emergent weed controls in the correct season, and if any controllable weeds do make their way into your lawn, we will return to treat them at no charge.

Landscaping
The quality of landscaping service you get varies widely from business to business, and choosing inexperienced or unqualified contractors often leads to poor and costly results. At Cornerstone Lawncare, we have established ourselves as a professional and quality-focused landscaping company with a strong record of providing 100% customer satisfaction.
Restore Your Lawn
Residential and commercials customers alike enjoy the lush, green lawns that result from our weed control treatments. Additionally, all of our technicians are trained and equipped with the necessary knowledge and expertise to give you the beautiful lawn of your dreams.
Call today to see if Cornerstone Lawncare LLC is the right service provider for you! 770-347-9060